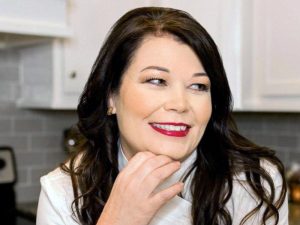 Born and raised in South Louisiana, Johnnie spent her formative years being influenced by both her Grandmothers.  Her summers were spent with her Cajun Grandmother down the bayou, in Bell River, who taught her how to cook their old Seafood Cajun Dishes.  When Johnnie was not on the bayou, she could be found with her other grandmother learning how to can fresh vegetables and cook country style comfort food.   Before she knew it, she not only learned two distinct type of cooking and preparation, but she also learned the importance of using the freshest ingredients available. Whether one of Johnnie's grandmothers was pulling fresh crabs out the traps or pulling fresh snap beans off the vine, she learned at an early age, how to make the best use of Louisiana's Treasures for her seafood and vegetables dishes.
Graduating with a BS in Poultry Science in 1994, from Mississippi State University, Johnnie worked in Alabama and Georgia, where she cooked her Cajun dishes for neighbors and friends.   After years of treating her friends, Johnnie finally moved back to Louisiana and started her own catering company called Cajun2gueaux in 2014.   Word of mouth spread quickly, about her talent of cooking regional southern cuisine and soon she decided to get formal Culinary Training at SLCC Culinary Arts to help expand her tools.
Chef Johnnie now brings her creative style and fresh ideas to one of South Louisiana's Premier Cajun Seafood Restaurants,
Crawfish Town USA.
  Check out her Instagram @chefjohnnieg or Facebook for Weekly Chef Specials.
Check out her special D.a.T. Recipes: