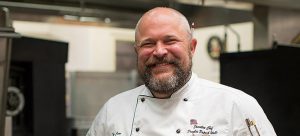 Welcome to our second installment of the D.a.T. Chef Spotlight.  We have been blessed that so many Chefs across the country love D.a.T. SaUcE and D.a.T. KeTcHuP as much as we do. Many have created specific D.a.T. Menu items,  incorporated D.a.T. into their Chef's restaurant Specials or catering items, and even used D.a.T.  in BBQ Competition entrees. We wanted to show some love back for all of this support from the cooking community.  Our series, D.a.T. Chef Spotlight, features interviews with some of these great chefs, as well as showcase some of their D.a.T. creations.
This installment features Celebrity Chef Douglas Walls of Asheville, NC. You may have seen him competing on the Food Network or viewed his posts on his wide-reaching social network  (38,000 followers on Twitter and 22,000 followers on Instagram). He is an Executive Chef at Billy Graham Training Institute and operates a largely sought-after catering company.
Chef Doug prepares delicious farm-to-table meals perfectly paired with choice meats, fresh vegetables, and special salads. And since it's Chef Doug's belief that a good meal should be made from scratch, He is committed to bringing local, fresh ingredients to his guests' table.  While incorporating southern classics with local influences, Chef Doug's cooking provides the perfect balance of comfort, ingenuity, and creativity.
We met Chef Walls several years ago through Instagram and we are thrilled he loves to use D.a.T.!
Where did you grow up and when did you first fall in love with cooking? 
Chef Doug – I was born in Charleston, WV and raised up in Asheville, NC. I started really falling in love with cooking while working as a dishwasher when I was 18 years old.
Are you self taught?
Chef Doug –Taught from the Streets!
 Who has influenced you or inspired you the most in your career? 
Chef Doug – My other half, Jamie Walls!
What is your favorite type of food to experiment with? 
Chef Doug  – I really love to try new things with hot peppers.
It appears you prefer the grill to the kitchen. Did it start out that way, or did you evolve into spending more time creating on the grill? 
Chef Doug  – It all started in the kitchen.  There was an article with a local newspaper after I was featured on the Food Network show and the headline of the article was "King Of The Grill",  so I had to learn to carry that title!
What is your favorite food item to work with on the grill and why? 
Chef Doug  – LARGE, HUGE Cuts of Beef.  Because it gives the audience a video or picture they wont be able to get out of their head.
What is the most important tip you could give to a newbie griller? 
Chef Doug  – Invest good money on a grill. You don't want one built overseas and spend $125 on it only to have it rust within 3 months. I am an ambassador with Goldens Cast Iron and my grill will be around for the next 100 plus years!
The Holidays are coming up, what do you like to cook special for Thanksgiving or Christmas? 
Chef Doug  – I really love doing a prime rib for Thanksgiving. I get a beautiful crust on it, and slice at table side with a mid-rare, and serve with a beautiful au jus I've been making for the past 24 hrs.
 What is your favorite way to use D.a.T. SaUcE or D.a.T. KeTchup? 
Chef Doug  –  I love using Dat Sauce on my eggs to get my day started with an awesome kick.  And I love using Dat Sauce for the base on my BBQ sauces.
Here are some of the meals Chef Walls has featured over the years using D.a.T. SaUcE.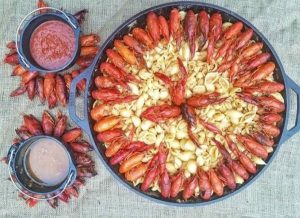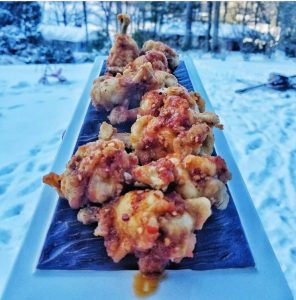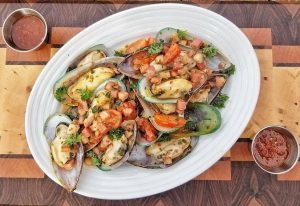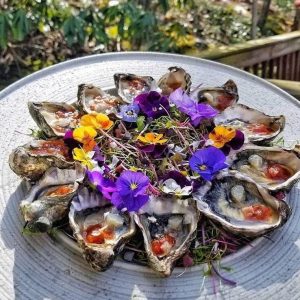 Follow Chef Douglas Walls on Instagram: @chefdouglaswalls
and Twitter: @chefdougwalls
Visit his Official Website at www.chefdouglaswalls.com