You've never had a better Bloody Mary than Scott Green's original D.a.T. Bloody Mary Recipe!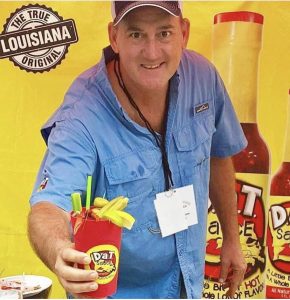 DaT BLOODY MARYS
One Gallon container:
One (750ml) bottle of Vodka
Add 1/4 cup Beef Broth
Add 1/4 cup Worcestershire sauce
1/4 cup lemon juice
1/4 cup lime juice
1 5oz bottle of DaT SaUcE
2/3 bottle of (Original)Clamato Juice
Fill Container up with V8 Juice
Add celery salt, salt and pepper to taste
Shake it up, baby!
Pour over Ice
Garnish with some or all of the following:
Cajun Chef Spicy Green Beans, Shrimp, Okra, Bacon
Olives, lemon & line slices, cucumber, celery & crawfish.
Have a D.a.T. SaUcE recipe?  Send it to us at Recipes@datsaucela.com. Please include a photo, your name, social media handles,  and where you're from. We would love to share it!