Welcome to this installment of the D.a.T. Chef Spotlight.  We have been blessed that so many Chefs across the country love D.a.T. SaUcE and D.a.T. KeTcHuP as much as we do. Many have created specific D.a.T. Menu items,  incorporated D.a.T. into their Chef's restaurant Specials or catering items, and even used D.a.T.  in BBQ Competition entrees. We wanted to show some love back for all of this support from the cooking community.  Our series, D.a.T. Chef Spotlight, features interviews with some of these great chefs, as well as showcase some of their D.a.T. creations.
This installment features Chef Bob Aungst,  a New England native that grew up in New Jersey and launched his career in upstate New York and now resides in Florida. He is Florida's Chef of the Year, in fact! He was classically trained at Schenectady College graduating with a Culinary Arts degree following a successful career as a real estate broker. In his 25+ years in hospitality, he has worked some of the largest sporting, political, and private events, including the Kentucky Derby, US Open tennis tournament, Presidential Inaugurations, and the Super Bowl.
He's had the pleasure of serving four U.S. Presidents, numerous members of Royal Courts, and countless political leaders. On average, he oversees the service or preparation of 2 million meals each year.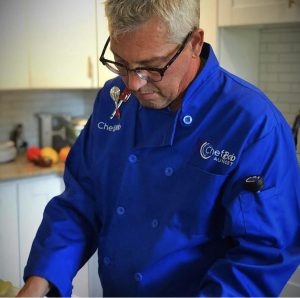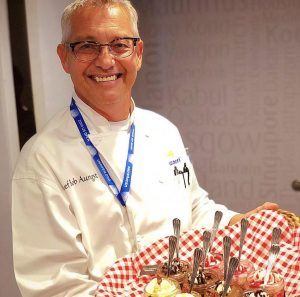 Scott Green (D.a.T. SaUcE ) recently met up with Chef Bob in Florida and they had a wonderful time bringing a Louisiana experience to some of Chef's clientele. There's a wonderful article on Chef Bob's website that tells the tale of "crawfish on a plane"!
Let's get to know Chef Bob a little bit better!
How old were you when you discovered a passion for food, and when did you know you wanted to be a chef? 
Chef Bob –  My passion for food truly began when I was around 5 years old. It started at the apron strings of my mom and grandmother and I quickly learned that creating meals for those we knew and loved was more than just a way of sustaining ourselves. It was a way to show our love, as well. The whole process of planning, preparing and executing meals for day to day life, and especially for parties, was fascinating to me.
I didn't realize I wanted to be a Chef until much later in life. In my late 20's I was a successful real estate agent in Upstate NY and was thinking about what I wanted to do when I retired. The thought of owning a bed and breakfast or an inn was very appealing to me. So in the midst of a busy career and raising my 2 children as a single Dad, I decided to go to Culinary Arts School and learn that aspect of the trade. My life and career has  been forever changed since then.
You're from the upper east coast originally. When did you move to Florida and what is the biggest food difference, culturally speaking? 
Chef Bob –I moved to Florida in 2009 and I feel the biggest food difference is the geography and climate as it pertains to farming and availability.  In the Northeast everybody has a garden, there are farms growing everything you could possibly want and the access to seaports was incredible.  Here in Florida, we have lots of wonderful citrus and local products that are grown year round in many cases, but it's hard not to miss Jersey tomatoes and corn, New England berries, NY apples and cheeses and the freshest seafood from the northeast coastline.
Who has influenced you or inspired you the most in your career? 
Chef Bob –I have had, and am still having, one of the most blessed careers and to choose any one person would be impossible.  The people that have, and continue to influence me most are the clients and chefs I work and interact with on a daily basis.  I am constantly amazed by the talents of the chefs I work with around the world and beyond blessed to have the opportunity to work for some of the most elite and interesting clientele.
What is your favorite type of food to experiment with?  What are some of your specialty items? 
Chef Bob –I was interviewed many years ago and I was asked a similar question "What is your specialty?". My answer then, and now, is that my specialty truly is "creating unique and memorable experiences, centered around food and beverage". To me, the style of food or service and the menu are just pieces of the overall experience. My passion is around taking ALL of the pieces of an event and creating something so memorable that the individual pieces become indiscernible from the overall feeling.
Foods I love to experiment with and have become specialties of mine include items that we have changed in ways that make them new and fresh. For example, I am known for my cold-smoking process of infusing the flavors of beautifully smoked hardwoods into items like lettuces, meringues and ice creams, and giving them a burst of smoky flavor where you wouldn't expect it, while not changing the integrity of the product. My cold-smoked caesar salad and cold-smoked bourbon pecan ice cream dishes are legendary.
You've had an incredible career so far. Would you share a couple of your favorite highlights? 
Chef Bob –It's hard to choose, but the Kentucky Derby will always hold a special place in my heart, as it was the very first special event I ever worked at and the start of my career. The US Open, Masters at Augusta and Presidential Inaugurations have all been wonderful and memorable highlights of a spectacular career.
 What is your favorite way to use D.a.T. SaUcE or D.a.T. KeTchup? 
Chef Bob –It sounds like a cliche, but I really do use it on anything I would typically use ketchup or hot sauce for as an ingredient or condiment.  I am a huge fan of using it to create my CB's Signature Spicy Cocktail Sauce, which has become an even bigger "Fan Favorite" since incorporating D.a.T. SaUcE  and D.a.T. KeTchup as the main ingredients.
CHEF BOB'S DAT SPICY COCKTAIL SAUCE:
Ingredients:
2 bottles D.a.T. KeTcHuP
1 bottle D.a.T. SaUcE
1 jar fresh Horseradish
1/2 lemon, squeezed
Salt and pepper, to taste
Mix all ingredients together and adjust according to personal taste.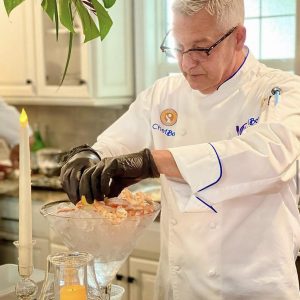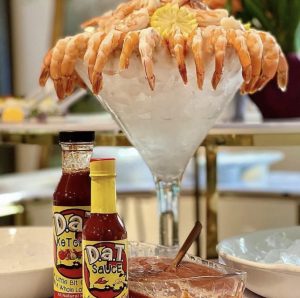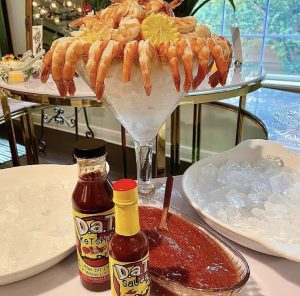 Follow Chef Bob on Instagram: @chefbobaungst
Follow Chef Bob's Premium Bourbon Barrel Aged Coffee: @Chefbobscoffee
Visit his website at www.chefbobaungst.com