D.a.T. Guacamole is absolutely incredible! Try it out yourself and you'll see what we are raving about.
Ingredients:
2 large ripe avocados
2 chopped up Roma tomatoes (remove seeds)
1/4 red onion finely chopped
1/4 reg. onion finely chopped
1 garlic clove (minced)
Juice from one lime
2 tbs D.a.T. saUcE
1 tsp cilantro (finely chopped)
1 jalapeño (chopped)
Mix together well and Serve with your favorite chips. Also tastes amazing as a baked potato topping!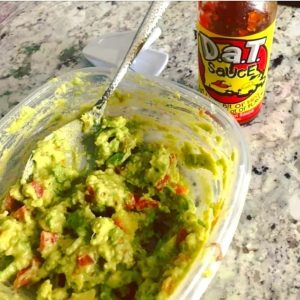 Have a D.a.T. SaUcE recipe?  Send it to us at Recipes@datsaucela.com. Please include a photo, your name, social media handles,  and where you're from. We would love to share it!