Chef Johnnie G is sharing her recipe for an exquisite sauce creation for this Muscadine Glazed Bone in Porked Chop, served  with Smoked Gouda and Corn Maque Choux and Toasted Pecan Collards.
Muscadine Glaze Recipe 
2 cups muscadine wine
1 cup honey
1/4 cup Worcestershire
1/4 cup Steens Syrup
3 tbsp Dat Sauce
Directions:
Mix all ingredients in sauce pan and bring to a boil.   Reduce by half. Glaze should be thick enough to stick to the back of a spoon.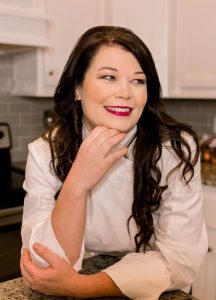 Have a D.a.T. SaUcE recipe?  Send it to us at Recipes@datsaucela.com. Please include a photo, your name, social media handles,  and where you're from. We would love to share it!