This Spicy Sweet Gochujang Sauce is an exceptional sauce by Chef Johnnie G, Executive Chef of Crawfish Town USA in Henderson, La.
Ingredients:
1/4 cup D.a.T. Sauce
1 tbs D.a.T. Ketchup
¼ cup red chili paste
¼ cup sugar
3 tbs strawberry jam (seedless)

2 ½ tbs soy sauce

1 ½ tbs rice wine vinegar
1 tbs sesame oil
1 tbs honey
6 tbs water

2 cloves garlic – – minced

½ teaspoon ginger – – grated

½ teaspoon salt
1 tbp sesame seeds
Green onions to garnish
Mix all ingredients together until smooth.  4-6 servings.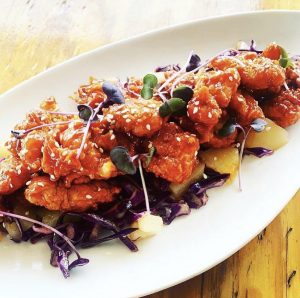 Have a D.a.T. SaUcE recipe?  Send it to us at Recipes@datsaucela.com. Please include a photo, your name, social media handles,  and where you're from. We would love to share it!