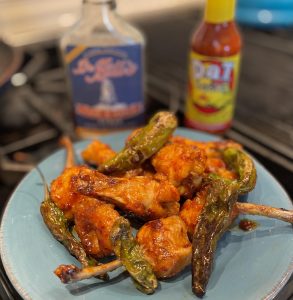 Ingredients:
18 cut Chicken Wings
Brine:
1 Pint Water
2 Tbsp Sugar
1 1/2 tsp Salt
2 Eggs
Flour Mixture:
2 Cup Flour
1/2 tsp Salt
1/2 tsp Pepper
1 tsp Onion Powder
1 tsp Garlic Powder
Sauce:
4 Tbsp Butter
1 7oz bottle of Dr. Bill's Syrup
1 Cup Dat Sauce
Pot or pan with oil of choice for frying
Finely chopped Parsley (garnish)
Directions:
Place brine mixture in large bowl. Soak all wings in brine no more than 30 minutes.
Add 2 beaten eggs to brine and wings mixture, coat them well.
Mix all Flour Mixture ingredients together in a large bowl. Take one wing at a time and coat well with four. Then place all wings in hot oil for ~12 minutes. Don't crowd the wings, cook til golden brown.
While wings are frying, make sauce in large frying pan on stove. Melt butter first, then add Dr. Bill's Syrup and Dat Sauce. Cook and stir until sauce thickens. Add wings to sauce and coat well. Take wings out and put on plate, pour remaining sauce over wings. Garnish with chopped parsley.
Have a D.a.T. SaUcE recipe?  Send it to us at Recipes@datsaucela.com. Please include a photo, your name, social media handles,  and where you're from. We would love to share it!