Ingredients: 
4 fillets of Ahi Tuna
Salt, Black Pepper and White Pepper equal parts, season tuna to taste.
Light your BBQ Grill and once your coals are good and hot, lightly sear tuna on each side to your preferred doneness. Slice tuna and serve with Lagniappe Sauce.
D.a.T. Lagniappe sauce
Ingredients:
1/2 cup Mayo
2 tbs Dijon mustard
2 tbs horseradish
2 tsp cane vin
2 tbs Dat Sauce
4 tbs Dat Ketchup
Mix all ingredients, and enjoy!
Chef Matt Whitney creates amazing "cajun with a twist" meals as part of a 5 star experience that gives you a glimpse into the unique Southwestern Louisiana lifestyle.
Grosse Savanne Lodge
offers an experience combination of world class water-fowling, fresh and saltwater fishing, alligator hunting, and eco-tours.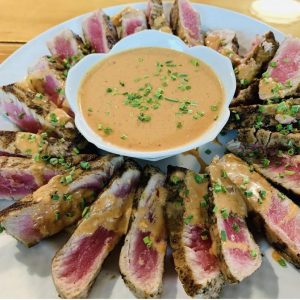 Have a D.a.T. SaUcE recipe?  Send it to us at Recipes@datsaucela.com. Please include a photo, your name, social media handles,  and where you're from. We would love to share it!