Try out this incredible recipe by Chef Scottie Johnson for DaT Bourbon Glaze Meatloaf! Be sure to follow his page and check out his new book "See Your Route and Run It: From Top Soldier to Top Chef" available on Amazon.
Bourbon Glazed Meatloaf Recipe:
Seasoning Mix:
1 tbs sea salt
1 tsp cayenne pepper or ground red pepper,
1 tsp black pepper,
1 tsp ground cumin
1 tsp cajun seasoning
1 tsp creole seasoning
Vegetable Mix:
4 tbs unsalted butter
1/4 c finely chopped red onion
1/2 c finely chopped green and red bell pepper
2 tsp minced garlic
1 tbs worcestershire sauce
1/2 c heavy cream
1/2 c D.a.T. KeTcHuP
Meat Mixture:
1 1/2 lbs  ground beef
1/2 lb Italian sausage
2 eggs, lightly beaten
1/2 c seasoned breadcrumbs
Glaze:
1/4 c bourbon
1/2 c D.a.T. KeTcHuP
1/4 c dark brown sugar
Directions: 
Combine the seasoning mix ingredients in bowl and set aside.
Melt the butter in a saucepan over medium heat. Add the onions, bell peppers, garlic, and worcestershire.
Saute about 4 minutes, stirring occasionally.
Stir in cream and D.a.T. KeTcHuP
Continue cooking for about 2 minutes, stirring occasionally.
Remove from heat and allow mixture to cool to room temperature.
Place ground beef and sausage in a bowl.
Add the eggs, vegetable mixture, make sure cooled, and the bread crumbs. Mix by hand until thoroughly combined. Make sure to not overmix.
In the center of 9 x 13 inch pan, shape the mixture into a loaf.
Bake uncovered at 350° for 25 minutes, then raise heat to 400° and continue to cook until done, about 30 minutes longer.
Mix all ingredients for glaze and spread evenly on top of meatloaf and cook for additional 5 min.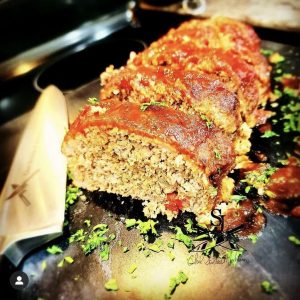 Have a D.a.T. SaUcE recipe?  Send it to us at Recipes@datsaucela.com. Please include a photo, your name, social media handles,  and where you're from. We would love to share it!