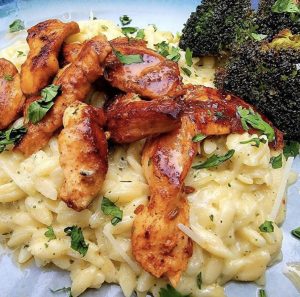 Cajun Blackened Chicken Recipe
Ingredients:
4 large chicken breasts
2 tbs D.a.T. SaUcE
1/2 tsp blackening season
3 tbs melted butter
2 garlic cloves confit in melted butter
Combine all ingredients and soak for an hour to room temperature. Then sear in a screaming hot pan/ flat top until chicken is cooked thoroughly. Let rest for 15 minutes and serve.
Have a D.a.T. SaUcE recipe?  Send it to us at Recipes@datsaucela.com. Please include a photo, your name, social media handles,  and where you're from. We would love to share it!