Ingredients:
2 cups  vegetable oil
2 large yellow onions, sliced into 1/2-inch slices and separated into rings
1 cup all-purpose flour
1 tablespoon Cajun Seasoning
1 cup half & half
A few splashes of Dat Sauce
Instructions: 
•    Line a plate with paper towels and set it aside.
    •    Heat vegetable oil in a large frying pan or saucepan.
•    In a shallow dish, combine flour, & Cajun Seasoning; whisk to combine.
•    Place half & half in a small bowl with a few splashes of Dat
Sauce:
     Start by dipping Onion Rings in flour mixture, then into half & half, and back into the flour mixture.  Carefully, drop several onion rings at a time in hot oil. DO NOT crowd the pan. Cook the rings in batches. Cook for 3 minutes; flip and continue to cook for 1 more minute, or until golden brown.  Using a slotted spoon, remove Onion Rings from oil and transfer to the paper towel-lined plate to drain.
•    Serve with Dat Ketchup and Enjoy!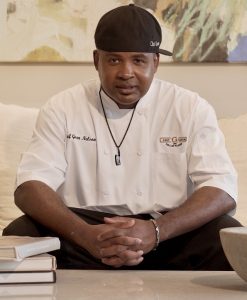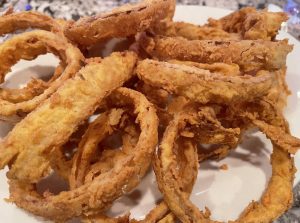 Have a D.a.T. SaUcE recipe?  Send it to us at Recipes@datsaucela.com. Please include a photo, your name, social media handles,  and where you're from. We would love to share it!